25% REIMBURSEMENT, STUNNING NATURE AND PROFESSIONAL SERVICES
With 25% refund on production costs, a stunning variety of locations within reach from each other and highly experienced film crews, filming in Iceland offers a unique opportunity for all filmmakers.
Save a quarter of production costs
Iceland offers reimbursement of 25% of the costs incurred during the production of films and television programs in Iceland. The reimbursement scheme, based on a special legislation, is simple, transparent and effective. Production costs refers to all costs incurred in Iceland deductible from the revenues of enterprises pursuant to the provisions of the Act on Income Tax. As Iceland is a member of the EEA, films and television programs made in Iceland receive European content status and can thus be released in Europe without affecting any quotas on the release of non-European content material. Icelandic production can also receive grants offered by the EU and its member countries.
Payments pertaining to employees and contractors are only to be included in production costs if they are verifiably taxable in Iceland. When more than 80% of the total production costs of a motion picture or television program are incurred in Iceland, the reimbursement is calculated based on the total production cost incurred within the European Economic Area (EEA). The reimbursement scheme does not include the production of commercials or music videos.
APPLICATION
Applying for the 25% reimbursement is a straightforward procedure. Applications are submitted online to the Icelandic Film Centre and must be submitted before production begins.
Variety of stunning scenery
Black sands, glaciers and snow-capped mountains, lava fields, waterfalls, lakes and lagoons with floating icebergs, the stark highland interior, tundra, moors patched with blue ponds, steamemitting, red and yellow sulphur mountains, scenes of serene beauty. For film producers, the best part is that the varied sceneries are not far apart and easily accessible.
A short drive can take film crews from black beaches, through lush greenery and colourful towns, into barren highlands or towards glacial tongues and majestic mountains. This nature has represented anything from the Himalayas and the US Midwest to mythical worlds and distant planets.
Apart from the unique landscapes, the light in Iceland is the first thing you'll notice as from mid-May to mid-August, the sun only sets for around 3 hours and there is effective light for 24 hours during this period.
Finally, Iceland is closer than you think: from New York, the flying distance to Iceland and San Fransisco is the same for example. There are daily direct flights to Iceland from major gateways in Europe (2,5-3 hours) and North America (5-6 hours).
Professional services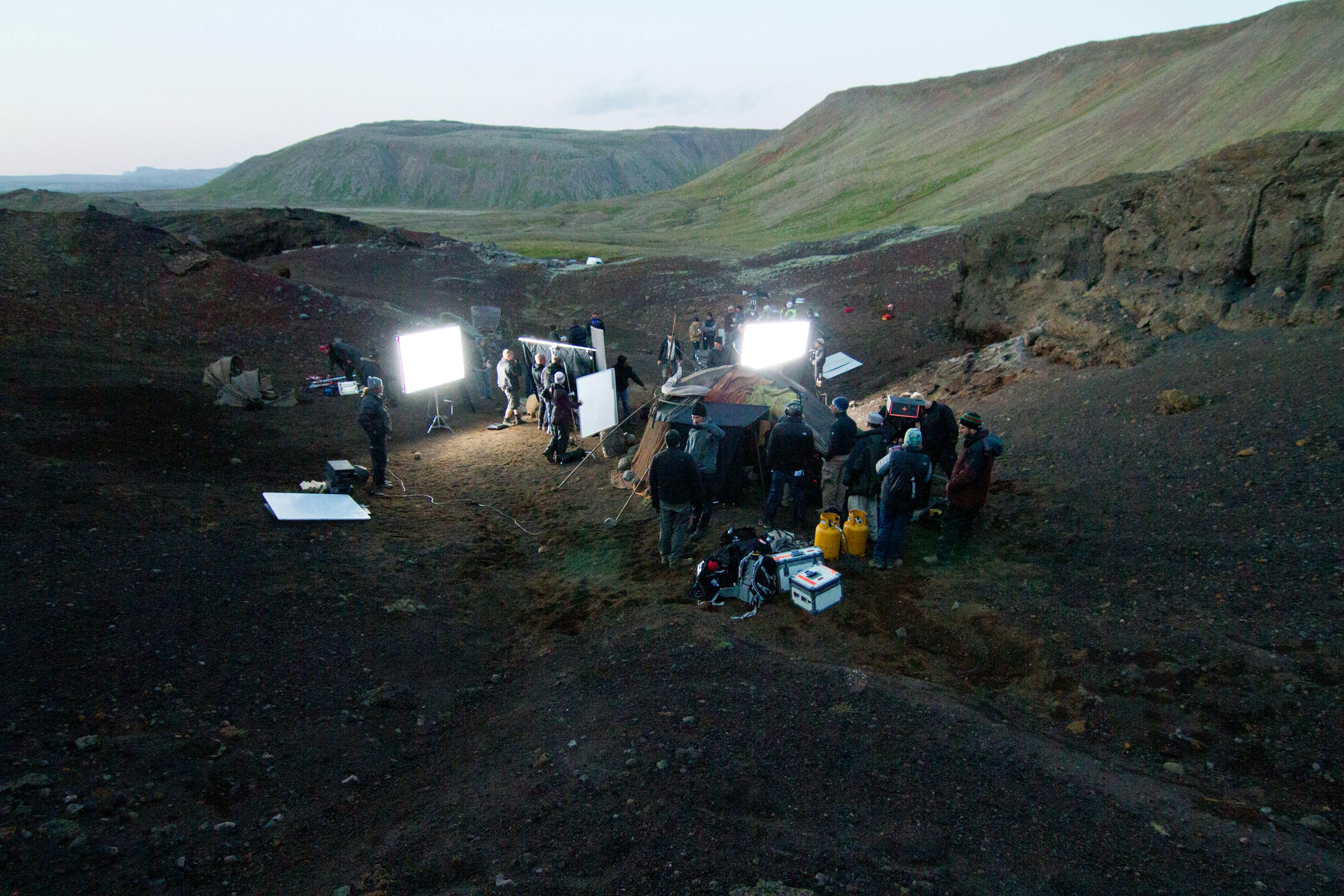 Icelandic Service Companies are experienced in working with international films, television programs, music videos and commercials. Their portfolio includes an impressive range of large scale productions. The full range of professional services available includes assistance with locations, crew, equipment, casting, studios, permits if needed, postproduction, VFX and more.
ICELAND AND EUROPEAN COUNTRIES COOPERATIONS
European content classification
European content classification. Since Iceland is a member of the European Economic Area, films and television programmes made in Iceland receive European content status. This entitles Icelandic productions to be classified as European material when released in Europe, without affecting any quotas on the release of non-European content material there.
The media program of the European Union
Through Iceland's membership of the European Economic Area, films and television programmes made in Iceland can receive grants for development and distribution and promotion of Icelandic projects and for training of professionals offered by the MEDIA Program of the European Union.
Eurimages
Iceland is a member of Eurimages, the Film Fund of the European Council which is based on the European Convention on Cinematographic co-production. Thus Icelandic producers can apply for production grants for European co- productions.